Ushio Konishi and Fujiko Enami established Ushio Studio at Jan.1.1998 in Miura-city Kanagawa-prefecture Japan. Miura-city is located down south to Tokyo metro police, it far from one our train ride or car driving. This ocean town has Tokyo bay coast at the east, the west is Sagami bay, the south is the Pacific Ocean. It looks like Cape Cod where we had worked in the States, except for the ocean and the weather is warm. When we decided to work in glass art, we had two unforgettable person in this world. One is Jack L. Wax. He was our teacher in our Toyama school. He is an excellent artist and same time he is the best teacher we have ever met. At present, he is head of the Glass Program at Virginia Commonwealth University's prestigious School of the Arts. The other is James P. Holmes. He is running Chatham Glass Company. He creates beautiful production works and we can see his works all over the States. He had energetically joined American Craft Council Exhibition in 1990's .Jack Wax and Jim Holmes used to work for Dick Marquis in late 1970's to early 1980's. They have good friendship and this is the reason Jack Wax introduced us for Jim Holmes as assistants after our graduation from Toyama school. These two people are our leaders. We always wish to become as Jack Wax and Jim Holmes. Having own studio and working steady is a Jim's way, Working Internationally and Doing Free is a Jack's way. Ushio Studio always starts working at 8 o'clock in the morning to 6 o'clock in the evening, we work hard. We have several shows in a year mainly Tokyo area but also the whole country.



We have a furnace. It has 70kg pot and 20kg color pot in it. We have an annealing kiln, a pick-up kiln and one more kiln for kiln casting. And we have two horizontal machine and two cutting machine. All of these equipments were we designed. Kilns and furnace were we built by ourselves. We can say running own glass studio is having huge experimental circumstance. We have a lot of knowledge for glass works, not only glass work technique but also gas and electricity and many other things. We think these days in working glass art, we are always demanded all-round abilities. In creating one art piece, we have to have many way to finish up. It means we have professional abilities in hot work, kiln work, cold work and lamp work.



We designed our studio for glass pick up works. It is convenience to make Venetian style works. Our direction to making our works is shaping free form and free pattern. The Venetian special technique has plenty of possibility to express many things.



She is doing mainly the murrine works these days. She prepares her own color glass to melt color glass by herself. She has a lot of glass stocks for her murrine works. She forms her glass works in blowing technique mainly, but sometimes she uses kiln work technique. She also uses lamp work technique during her glass blowing process, especially in detail.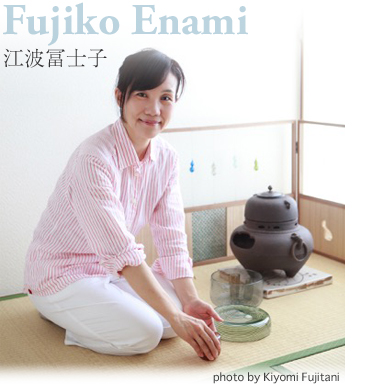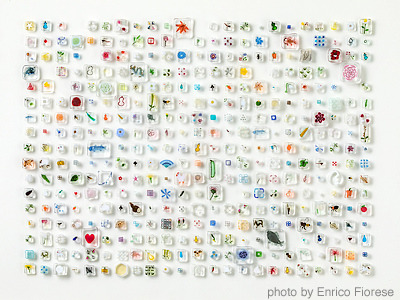 1994 Toyama City Institute of Glass Art, Toyama /Japan
1992 B.F.A. Tama Art University, Tokyo/Japan



2013 Tama art University, Tokyo/ Japan
2013 Utatuyama Kougei Kobo Glass Studio, kanazawa /Japan
2012 Sin Zoukeisouzoukan, Shizuoka/ Japan
2012 SILICA Glass Studio, Ibaragi/Japan
2011 Toyama Glass Studio, Toyama/Japan
2009 Musasino Art University, Tokyo Japan
2008 Anadolu University, Eskisehir/Turky
2007 Toyama City Institute of Glass art
1998 Established Glass Art Ushio Studio with Ushio Konishi
1997-1995 Assistant to Jim Holmes / Chatham Glass Co. MA / U.S.A.



2018 The Book Shop of LE STANZE DEL VETRO/ San Giorgio Venezia, Italia
2018 "COLLECT"/London, England
2017 SARA Japanese Pottery / New York, U.S.A.
2016 Gallery Claudia Geiser/Zurich, Switzerland
2016 Solo Exhibition GINZA WAKO/Tokyo
2015 DELIZIE DI VETROLe Opere di Fujiko Enami e Ushio Konishi/ CafPesaro Oriental Musem Venezia , Italia
2015 The Kikuchi Kanjitu Prize Contemporary Japanese Crafts Tomo Museum, Tokyo/Japan
2014 Bern art Chakai, Bern/ Switzerland
2013 gNostalgiah Ukou Kamakura/Japan
2012 gNEIROh Utuwaya AKANE, Kyoto/Japan
2011 gThe Yearning for Venetian Glassh Suntory Museum of Art, Tokyo/Japan
2010-2001 Glass Gallery KARANIS , Tokyo/Japan
2007 Allure of Japanese Glass , PA/U.S.A.
*Several times of exhibitions every year since 1998



2015 The Kikuchi Kanjitu Prize gContemporary Japanese Craftshexhibition catalogue by Tomo Museum
2011 gThe Yearning for Venetian Glass ; that Traversed Oceans and Timehexhibition catalogue by Suntory Museum of Art



2010 Japanese Tea Bowls /Suntory Museum of Art, Tokyo/Japan
2015 Toyama Glass Museum, Toyama/Japan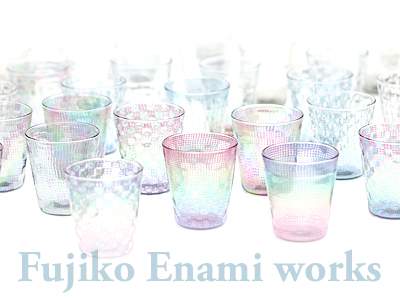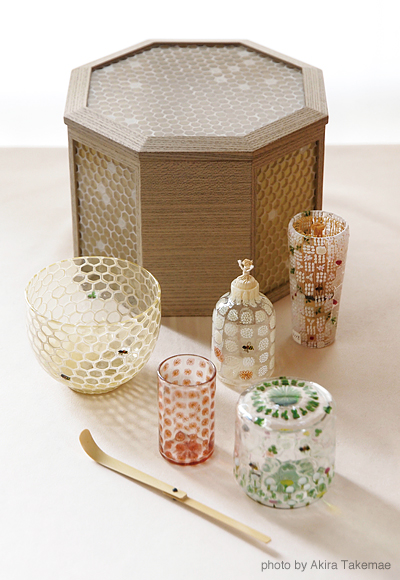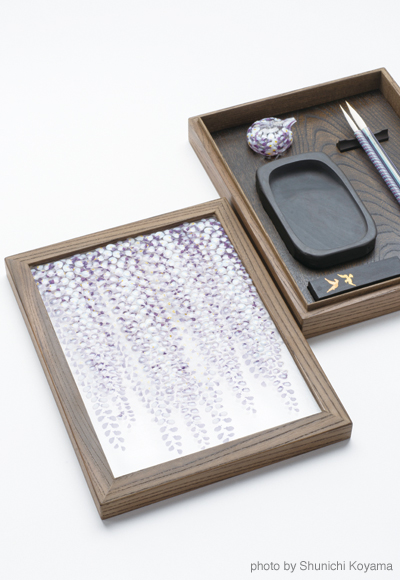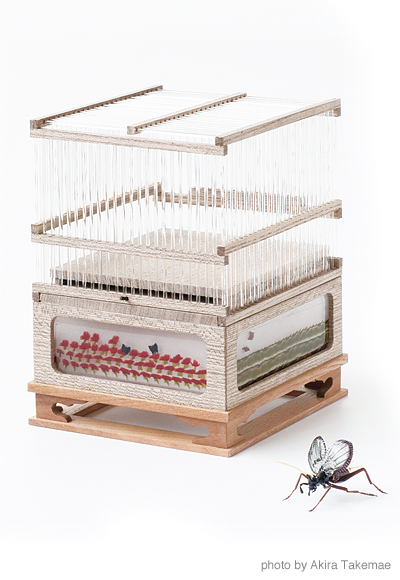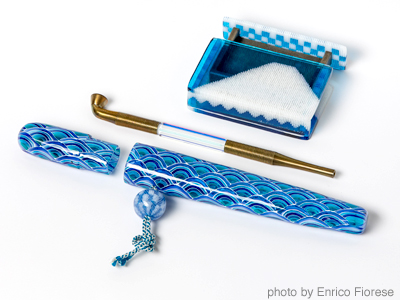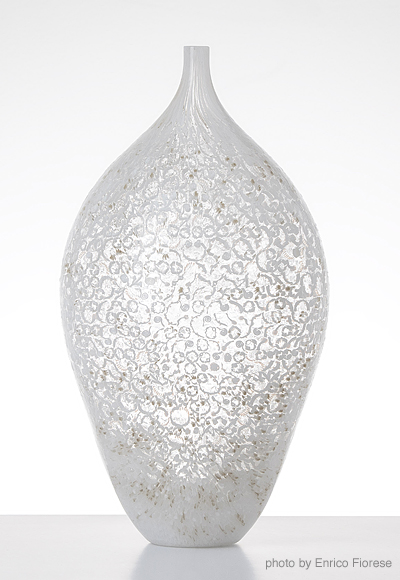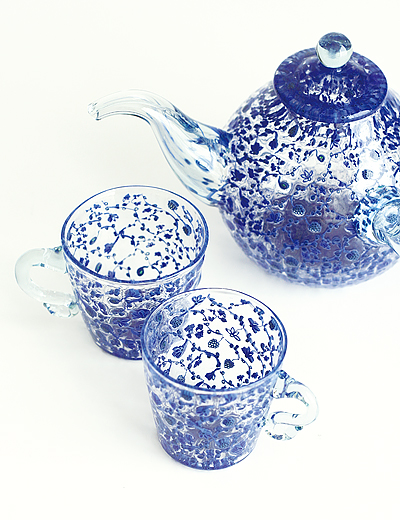 I am interested in Venetian lace glass technique these days. I think the Venetian technique is a perfect style to understand about glass specially glass blowing works. I feel I'm still in the process to understand about glass. I am always interested in the distortion and the strain. When we see the view through a glass, we find some deference compare with our real world. Sometimes I try to make my piece as it has BIG DISTORTION and whole world in it.
Fujiko and I always looking forward to see people and something new.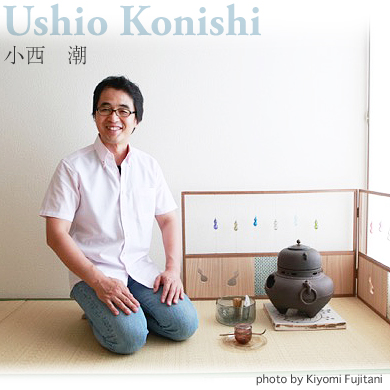 1993 Toyama city Institute of Glass of Art, Toyama/Japan
1989 B.F.A. Japanese History, Chuo University, Tokyo/Japan



2009 Musasino Art University Tokyo/Japan
2008 Anadolu University Eskisehir/Turky
2007 Toyama City Insttitute of Glass Toyama/Japan
1998 Established "Glass Art Ushio Studio" with Fujiko Enami
1996-1993 Assistant to Jim Holmes / Chatham Glass Co. MA/U.S.A.



2014 Nihonbashi Takashimaya, Tokyo/Japan('12)
2013 Ukou, Kamakura, Kanagawa/Japan('09, '11)
2013 Kitou Kobayashi, Aichi /Japan('09 '11)
2012 Gallery SAI, Fukushima/Japan ('10 '08)
2012 Ecru+HM Tokyo/Japan('10 '14)
2011 Kochuraku Kagoshima, Japan ('13)
2010-2001 Karanis, Tokyo, Japan



"Kateigahou International Edition" Sekaibunnkasha 2010
"Imadoki Wa no Utsuwa" Takahashi Shoten 2005
"NHK Shokusai no Roman" NHK Shuppan 2004


IRONIHOU
PANORAMA